The Extensive Smart Light Comparison of 2019 | Teardowns included at the End
We spent quite a bit of time setting up 15+ bulbs, photographing, videoing them and testing out each channel with LUX sensors.  All the data and video has been compiled for you to make your own decisions, although I do tell you which bulb is my favorite based on various factors/features.
Bulbs
Lohas A19 60W RGBW
Lohas A19 E26 CW/WW
Lohas A21 100W RGBW
Edison Tunable E26 CW/WW
Novostella 120W A19
Reafoo E26
Anoop 60W CW/WW
Aoycocr A19 750lm
Enshine A19 60W
Esicoo 60W
Luntak E26 60W
Merkury A21 75W
Teckin SB50
Lifx A19 1100lm
Google Spreadsheet of Smart Lights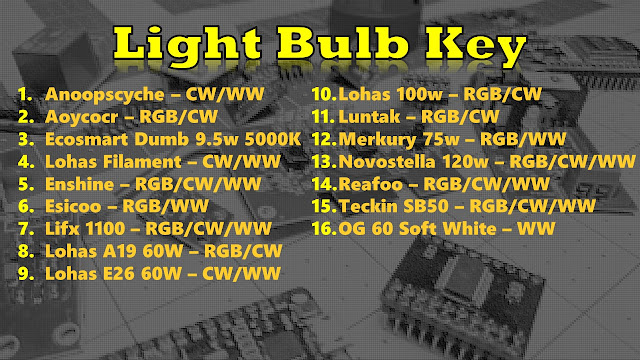 -=-=-=-Get the Products We Use/Recommend-=-=-=- Amazon US - https://amzn.to/2YZNDeO
Amazon UK - https://amzn.to/2TnG2R4
Amazon CA - https://amzn.to/2HchPZe
-=-=-=-Come chat with us!-=-=-=- Discord - https://discord.gg/bNtTF2v
Patreon - https://www.patreon.com/digiblurDIY
Links to products provided through the Amazon Affiliate program.